Re: Velocity with fvcurve
From: dan cunningham <dan_at_digitaldan.com>
Date: Thu Dec 27 2018 - 19:33:32 CET

>The solution was to change notes velocity instead of cc7.

Thanks, that makes sense, glad to hear you ended up with a working
solution, I will probably go down the same route! (see my question below)

>Most MIDI gears come with a "MIDI implementation chart", often the

I did a little archaeology and found a scanned version of the original
manual, and yes it does contain a MIDI implementation chart!.  I don't see
anything referencing using the volume channel, only the velocity of key ON
messages (at least I think thats what I'm reading). I'm attaching a screen
shot of the page, not sure if it will attach right to the list.

So my next question,  Is there a way to change the note velocity from an
inputed midi file in real time?  I'm not above using multiple processes and
named pipes if need be.


On Thu, Dec 27, 2018 at 4:28 AM Alexandre Ratchov <alex@caoua.org> wrote:

> On Wed, Dec 26, 2018 at 10:18:21PM -0800, dan cunningham wrote:
> > Thank you for the reply!
> >
> > Changing the volume channel (7) did indeed change the the resulting
> volume when
> > exporting to a file.  Unfortunately when I hooked it back up to the
> Yamaha
> > piano, the volume did not change,  This piano is fairly old, its a
> Disklavier
> > Grand Piano from circa 1990 and I'm guessing may not conform to
> completely to
> > midi standards.    I am going to keep poking at it to see what the magic
> > combination is, I know others have managed to adjust the volume with
> commercial
> > solutions.  One thing i was reading up on was sending a sysex MIDI Master
> > Volume message, i have no idea if this will have any effect, but we will
> see.
> >
>
> Most MIDI gears come with a "MIDI implementation chart", often the
> last few pages of the user manual. You could try to figure out which
> controllers are supported, and whether there's a non-standard mean to
> adjust the volume.
>
-- 
Sent from my mobile.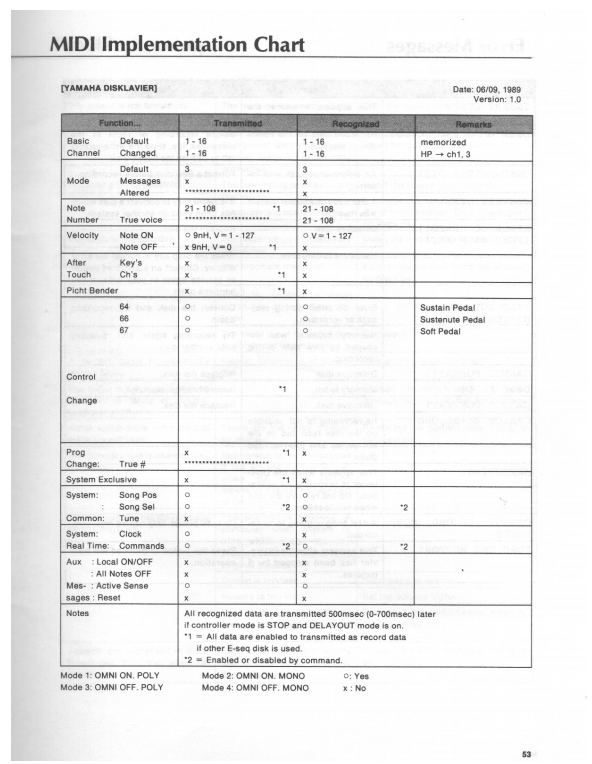 Received on Thu, 27 Dec 2018 10:33:32 -0800
This archive was generated by hypermail 2.1.8 : Fri Dec 28 2018 - 01:32:32 CET